Q: Where else can I find you?
A: Mirroring shadows. As well as

&

Q: How else can I contact you?
A: By writing on walls and having the photos posted online. And by email.
Q: Are you gallery affiliated in any way?

A: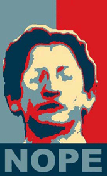 Q: Are you insane for giving away so much free art?
A: It's a real possibility.